Latest News From the Coastal Watershed Council
The Coastal Watershed Council is celebrating our twentieth year of preserving and protecting coastal watersheds through community stewardship, education and monitoring.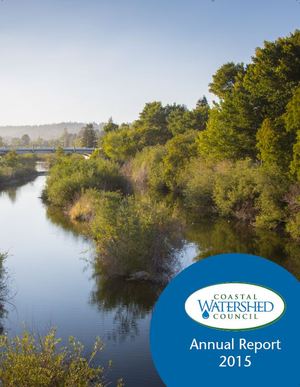 We're excited to be sharing with you this year's Annual Report, highlighting all of the work you've helped us accomplish and to look forward at what's to come. Some facts about what CWC accomplished in the last year, with your help. We:
Produced 21,596 scientifically valid water quality monitoring data points with 139 volunteers
Presented lessons to 3,334 students
Taught 124 lessons in 29 different schools
Coordinated with volunteers to complete over 1,000 volunteer hours in water quality monitoring, education and stewardship programs
Welcomed a record number of members to join us in reconnecting healthy watersheds to a vibrant community.
Please join us in celebrating our shared accomplishments in 2015 and over the last twenty years and read CWC's 2015 Annual Report online today!